The World Anchor is a special block added by RailCraft that keeps chunks loaded when a player is not in-game or otherwise in that chunk or dimension. The world anchor works in both multiplayer and singleplayer.
The World Anchor keeps a 3-by-3 chunk area (9 total chunks) centered around the anchor active at all times that the anchor is in place. Pressing the Show Chunk loader particles (default F12 key) will show particles in the area under the effect by the Anchor. The particles appear purple, similar to the Enderman/Ender Pearl warp particles and the particles that float outside of a Nether Portal.
Its EMC value is 24,768, making it much more expensive than a Teleport Tether, which can only load one ninth of the chunks, and more than twice as expensive as a Dimensional Anchor which can load 9 times as many chunks. The World Anchor is the only one which can be made into a minecart.
WARNING!: The world anchor may cause lag and cause your computer to freeze (or server to crash.)
Note: Having too many world anchors on your world can cause your Minecraft to crash (or server to crash.) (or your minecraft to die)
Recipe
Usage
World Anchors are commonly used to keep machines active while the player is offline (Only in Multiplayer) or in another dimension. Use of a World Anchor with the Blast Furnace or Coke Oven is common, due to the large amount of time it takes to cook items with these devices.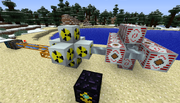 Video Tutorial
Community content is available under
CC-BY-SA
unless otherwise noted.