| | |
| --- | --- |
| | This article is in need of a clean-up. You can help out The Tekkit Classic Wiki by re-organizing parts of the article, checking grammar and spelling, and doing other helpful things to correct the article. |
Ultra-Low-Current Cables are cables that can only handle up to 5 EU/packet, but have very low EU loss. This makes them the ideal cable for transporting EU from Solar Panels, Water Mills, and Wind Mills, having the same low EU loss as Glass Fibre Cables, but are much cheaper to craft.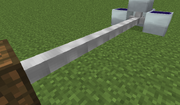 Ultra-Low Current Cables cannot be insulated, therefore, cannot be painted. Since the cables aren't insulated, they can potentially electrocute nearby objects, however, it is difficult to run enough current through such low voltage cable to cause meaningful damage.
| Cable Type | EU Loss/Block | Blocks/EU Loss |
| --- | --- | --- |
| Ultra-Low Current | 0.025 | 40 Blocks/EU |
Recipe
Usage
Video Tutorial