| | |
| --- | --- |
| | This article is in need of a clean-up. You can help out The Tekkit Classic Wiki by re-organizing parts of the article, checking grammar and spelling, and doing other helpful things to correct the article. |
Basic Operation  
The Reactor Containment Field Projector is used to generate a forcefield around the active Nuclear Reactor. The size of the field varies on the design of the reactor. For a reactor without any chambers, it will generate a 3x3x3 forcefield. If the reactor has chambers, it will generate a 5x5x5 forcefield.
To turn on, it needs to be paired with a Forcefield Core by placing a MFFS Frequency Card inside of the slot. A Redstone signal is also required. It is common to use a Wireless Receiver to deliver this signal. The projector will automatically activate when the reactor exceeds 75% of its maximum heat (ignoring reactor plating). At an added energy cost of 1000 force power per block, there is an option called "Reactor Water Cool." If switched to true, it will place water into free spaces inside the forcefield. This helps the reactor cool more quickly.
The forcefield projected will contain the entire reactor explosion, even with cables and pipes attached to the reactor. (However, there seems to be a bug in which, if placed incorrectly, will not fully contain the explosion on the side with HV cables).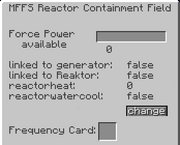 Useful Together
The Reactor Containment Field Projector is often required for certain MFFS blocks to operate correctly.
Recipe
Community content is available under
CC-BY-SA
unless otherwise noted.