The MFFS Area Projector creates either a cube or a sphere centered on the projector. The GUI can change which shape and the size of the field. The minimum radius is 4, which results in a field which is 9 blocks across (4 on each side of the projector and one centered on the projector), and can go up to 32 blocks in each direction, a total of 65 blocks across one side of the field.
Recipe
GUI
The GUI is fairly simple. It has a bar to display how much power is avaliable in the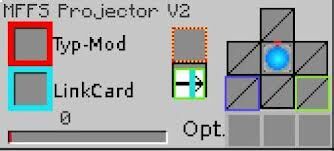 linked core, a couple radius selection buttons, and a choice between either a cube or a sphere shape. There is also a slot where you must place a MFFS Frequency Card which has been linked to a Core. Not placing a card renders the projector useless.
Upgrades
There are several upgrades for the Area Projector, most of which have a specific time and place to be used. These upgrades are listed here.
Notes
In a multiplayer server, the radius or length of your forcefield is limited. Generally it is 32 but this may differ, by contacting your server administrator you can request to have this size changed as he/she has to change it in the ModularForceFieldSystem config file.
Video Tutorials