The Industrial Information Panel displays important information about your Nuclear Reactor or EU Storage Device. It works much like the Remote Thermal Monitor but has a text display and includes more information. Like the Remote Thermal Monitor, a Remote Sensor Kit must be used (right-click with it in hand) on the Nuclear Reactor that you wish to monitor. You then place the Reactor Sensor Location Card (acquired from right-clicking the Remote Sensor Kit) in the top slot and it will display information about the linked Nuclear Reactor. The top slot will also receive an Energy Sensor Location Card  (acquired from right-clicking the Energy Sensor Kit onto the EU Storage Device), or Time Card.
When placed on top of a block, the display (green) side of the panel will face up. You can right-click it, with an IndustrialCraft 2 Wrench, to change the way it faces and shift + right click to rotate text on the panel. To turn on the information panel, you must provide a Redstone current.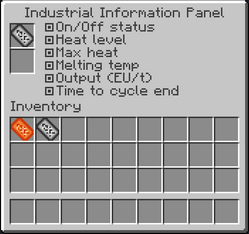 A larger display can be made by adding an
Information Panel Extender
adjacent to the existing panel and facing the same direction. All connected panels will appear as one large display.
It is possible to display the information for more than one device on a display, providing it is big enough, by placing an Energy Array Location Card (made of multiple Sensor Location Cards) into the information panel.
The Industrial Information Panel can detect devices in a range of 8 blocks by default. Adding one or several Range Upgrades to the lower slot will increase the range by 8 blocks each.
Finally, Industrial Information Panels can be used as clocks when a time card is inserted. The clock displays the in-game time in a 24-hour format.
Known Bugs
Sometimes the industrial information will not display any data.
If you put in a disabled card the game will crash
Recipe
Video Tutorials
Community content is available under
CC-BY-SA
unless otherwise noted.