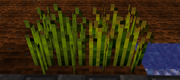 Hops
is a Tier 5
Crop
in
Industrial Craft 2
(Tiers range from 1-8). It can only be obtained through
Cross Breeding
. Hops appears virtually identical to
Redwheat
and
Wheat
for most of its growth stages. The final three stages of its growth vary from both. The most noticeable is at maturity: there is a slight difference in coloring with Hops having a slightly green hue to the tips and on the stalks.
It requires a light level above 8 in order to grow and is a plant that grows at a slow pace, possibly taking hours, depending on its growth statistics. This includes cross-breeding and planting Seed Bags as well as the plant reaching maturity.
When harvested, Hops have a chance of dropping Hops and a Hops Seed Bag. The Hops item appears as 3 small pods grouped together and is used to Brew Beer in an Empty Booze Barrel.
Recommended cross-breeding combos: Nether Wart + Nether Wart, Stickreed + Stickreed, Nether Wart + Sugar Cane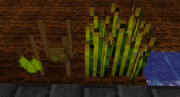 Hops Growth Stages:

Community content is available under
CC-BY-SA
unless otherwise noted.