W.I.P. tutorial
Hello. today I will be teaching you how to get started with the Railcraft Mod!
Railcraft is a wonderful mod and although it can seem complex at first it is simple when you get going. In railcraft you can do anything from building a nice looking railroad station to building a factory for rail production with mine carts.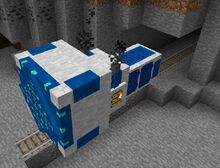 Getting started:

To get started you first need to do the vanilla basics: Make a House/Work Shack, mine resources, etc. Next you should build a Coke Oven, to do so go out to the nearest ocean or river an grab yourself the following
104 clay
130 sand
Next craft coke oven bricks by smelting all 104 clay into bricks and place them along with the sand into the crafting grid as shown below. After that, you need to build the Coke Oven (shown below) by first placing a 3 by 3 square on the ground made out of coke oven bricks where you want your Coke Oven 2nd place a ring of coke oven bricks on top of that platform leaving the center block empty, and finally cover the top of it, now you are done and you should be able to right click it to accses it's inventory.
Recipes: