The Directional Forcefield Projector working by itself creates a 1 block tall and wide field extending up to 32 blocks. It can be used as an electronic drawbridge.
Usage
This item works best when it is paired with an MFFS Directional Extender. When placed next to a directional forcefield projector - and no other projector - it will extend a forcefield as long as the direction projector already emits it, as far as the Extender's GUI says, up to 32 blocks. It's easiest to understand in pictures, so look below:
The projector can be set up to 32 blocks long, and the extender can emit that another 32 blocks in whichever direction you choose, including diagonally
.
Recipe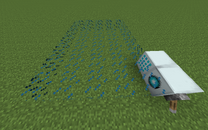 Video Tutorial
Community content is available under
CC-BY-SA
unless otherwise noted.