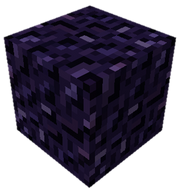 Crushed Obsidian is added by RailCraft. It is made by macerating Obsidian or crushing it in a Rock Crusher.
It has the same blast resistance as Obsidian but is lowered to 60 by IndustrialCraft2, making Reinforced Stone and Reinforced Glass stronger.
Crushed Obsidian shares the same texture as gravel but is purple as opposed to grey. Similar to gravel, it is affected by gravity.