Copper Cables are Tier 1, the most common cable tier. They are only capable of handling Low Voltage (up to 32 EU/t), however, they suffer the third smallest distance-related energy losses out of all the conventional cables, not including Glass Fibre Cables and Ultra-Low-Current Cable. When you insulate the copper cables, it suffers even less. Unlike HV Cable, they can be only insulated once.
They are also used in the creation of Electronic Circuits, a very common building block in machines.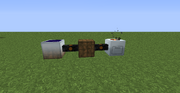 Recipes
Uninsulated Copper Cable
For an EMC cost of 42.5 EMC per cable.
Copper Cable
For an EMC cost of 66.5 per cable (EMC taken from sticky resin for rubber).
Usage
| Cable type | EU/b | Energy loss |
| --- | --- | --- |
| Copper Uninsulated | ~0.3 | 1 EU per 3 blocks |
| Copper Insulated | 0.2 | 1 EU per 5 blocks |
Insulated Copper Cable is the most common cable used to craft other advanced machinery and devices, most commonly the Electronic Circuit and the RE-Battery.
Video Tutorials
Sources