Jurassic World: Dominion Dominates Fandom Wikis - The Loop
Play Sound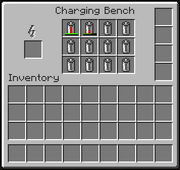 The Charging Bench allows you to charge multiple items at a time. Simply right-click to access the GUI and place items to be charged in the Charging Bench's inventory.
It will automatically unstack empty RE Batteries as they are charged. If a Redstone Current is applied to the bench, it will reverse its function, discharging batteries placed in its internal storage to provide energy. The Charging Bench's capabilities can be enhanced using Upgrades. It can also be powered with Redstone, instead of EU.
Recipes
Charging Bench Mk1
There also is a rarely occurring bug that won't allow you to craft it.
Charging Bench Mk2
Charging Bench Mk3
Marks
The MK1 is the first tier of three benches. It can be used to charge simple items, such as the Mining Drill or Electric Wrench and only accepts a LV EU.
The MK2 bench can charge more advanced items, such as the Nano Suit or the Mining Laser and can accept MV or lower EU packets.
Note: using Transformer Upgrades, the benches can accept more EU without any issues. Also, MK2 and MK3 can charge the lower tiers of items so you do not need all 3. Also applying a redstone signal to the charging bench will cause it to discharge any items in the bench.
Bugs
Sometimes they will not charge your items in SMP(finding a fix).
May cause disconnection when attempting to craft Charging Bench MK3 in SMP.
Will not get power through the bottom of the table even though cable seems to connect to it.
Tips
Since generators and power storage units act as a charging bench with 1 slot there is little need to build MK1 and MK2 charging benches. In the early stages of the game you do not need to charge multiple tools at once. The MK3 charging bench is relatively cheap to build, so you can build one early on.
Upgrades
Video Tutorial