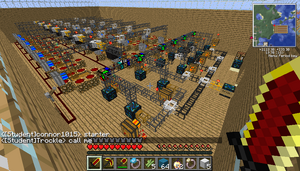 These are all the other bits and bobs that BuildCraft uses.
The BuildCraft engines and machines need these!
Need to rotate some BuildCraft objects.
These new components go hand-in-hand and provide a high efficiency fuel option for BuildCraft engines.
Tanks are used to store liquids for later use.
These are used in conjunction with builders to make replicas of previously built structures.
Pumps are used to pump liquids as Oil, Water & Lava.
Trending pages
All items (11)