Not to be confused with Bricks (Material)
Brick Blocks are a decorative building block that, unlike most decorative blocks, must be crafted. Brick Blocks are made by smelting Clay in a Furnace, and then crafting the Brick in a 2x2 square. Brick is explosion and fire resistant, making it a common building material. In order to retrieve a Brick Block, the player must use a pickaxe. Using the hand will result in the material not being recovered.
Recipe
Usage
Brick Blocks are used to craft Blulectric Alloy Furnaces and Mercurial Eyes. They are one of three option ingredients for crafting a Coal Chunk which is used to make Industrial Diamonds. Brick Blocks are also used to make patterns in the Filler.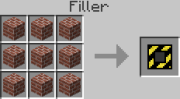 Community content is available under
CC-BY-SA
unless otherwise noted.